Hello there.
Hope everyone is doing well this month – we here at Whitepot had a lovely wee break a few weeks ago, before we got stuck in preparing for Gamescom (which is at the end of this month!). It's good to take some time off as a team to get some chillaxing time – we're back now and ready to go!!!
---
Announcements
SPECIAL ANNOUNCEMENT!!!
As you may know, before the pandemic we were based in a wonderful games co-working space called the Pixel Mill, with lots of talented up and coming studios from Northern Ireland. We may not be there physically, but we're still there in spirit ? With that said, we wanna take a few seconds to congratulate our fellow Pixel Mill alumni Brain and Nerd on their Creative Europe funding!
Their game Hortalius was one of two NI games selected for a Creative Europe grant. Hortalius is a sandbox survival game inspired by "Subnautica" and "Honey, I Shrunk The Kids". We're super chuffed and wish them all the best.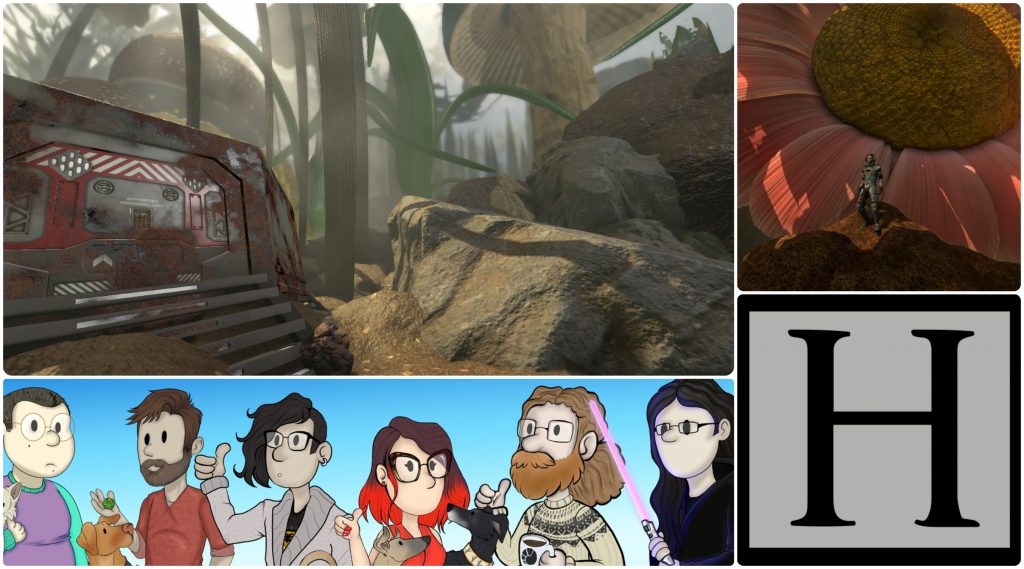 You can follow the artist of their super cute team pic (Travis Morrow) on Twitter here, and read all about this year's NI Creative Europe bonanza on PlayDiaries here: Brain and Nerd, Italic Pig get Creative Europe UK funding.
---
STARGAZING
We've got some great news! Our astronomically relaxing constellation Pattern Puzzler game Stargazing is close to completion 😀 We've been working hard for the past few months, and we'll be sharing screenshots and videos on the game every Thursday leading up to the release of the game, so be sure to follow @stargazingWP on Twitter, as well as our main account @whitepot.

BOOST
Speaking of the Pixel Mill, we're taking part in Northern Ireland Screen's first virtual video game business bootcamp called Boost. Thanks to Jason Della Rocca for the informative talks!
---
GAME COVERS
Vicky had a fun idea to share some of our favourite (or most iconic) game covers for this month's blog, what better month than Gamescom month to go through our favourite game covers?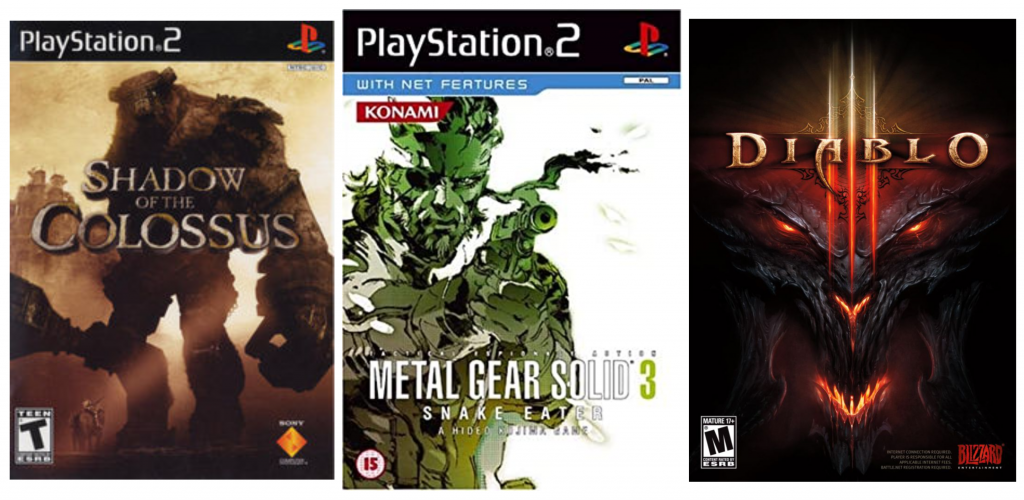 Shadow of the Colossus – The cover perfectly captures the sense of scale that this game is famous for. You're a tiny person on a horse desperately fighting these giant creatures and this isn't even a big one
Metal Gear Solid 3 – The MGS covers are iconic and it was difficult to pick one. I went for 3 purely because Big Boss is a badass
Diablo 3 – Though the game may have divided opinions, you can't deny that's some cool box art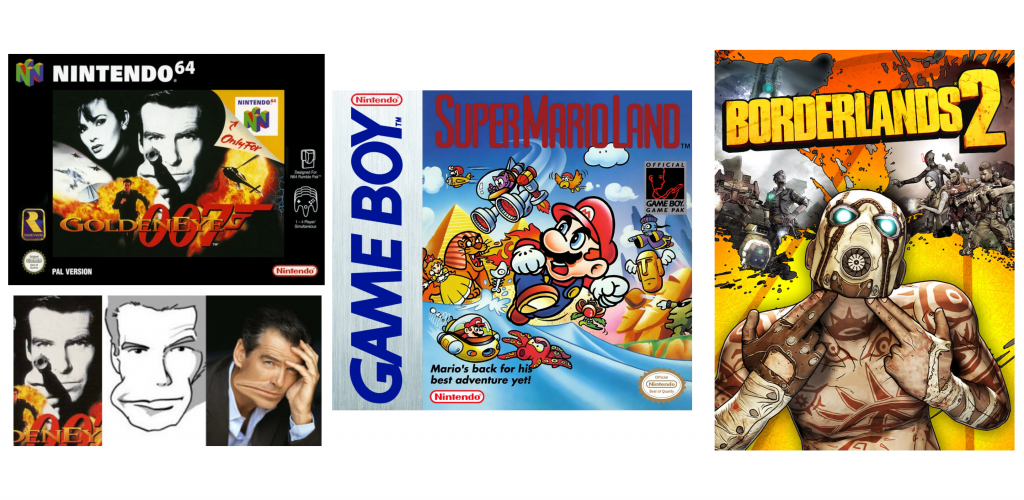 GoldenEye 007 (N64 box edition) – Many an hour spent looking at Pierce Brosnan's optical-illusion-elongated face. I think the illusion speaks for itself.
Super Mario Land (GameBoy) – I remember going back to this to try and draw it time and time again, and always looking at the octopus Mario was chasing on the bottom left when I was wee and getting really annoyed that nothing in the game looked like that, nor was that boat available. Subnautica before it's time imo.
Borderlands 2 – I'm not an overly massive fan of the franchise, but I just remember this cover being absolutely everywhere when the game came out. Yer man's face on the cover and his oddly angled head was on bus stops and in magazines and just reminds me of being in uni in 2012 for some reason.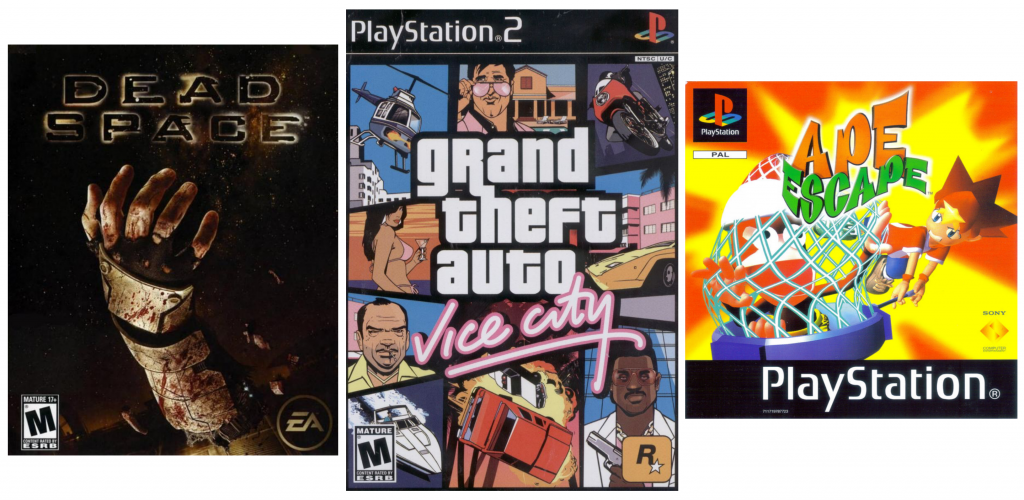 Dead Space – I mean, it's a severed hand floating in space. I really like how the cover does a really good job of setting up the game. It's focus on the mystery/horror ahead rather than on the main character or the main monster. It's a shame that the follow up games in the series fall more into generic cover art.
GTA Vice City – Honestly not a huge of the series itself but I've always been a fan of their covers. Vice City is my favourite cover, I think it has the best composition and colours. I always preferred the older games blocky stylised designed over the more modern realistic designs.
Ape Escape – I would look at this cover as a wean and instantly know what it felt like to play it. Catching those Apes was one of the most satisfying game mechanics I've ever experienced. I think the PS1 era of boxes is my favorite. The DVD size boxes are grand but that square box just gets me really nostalgic.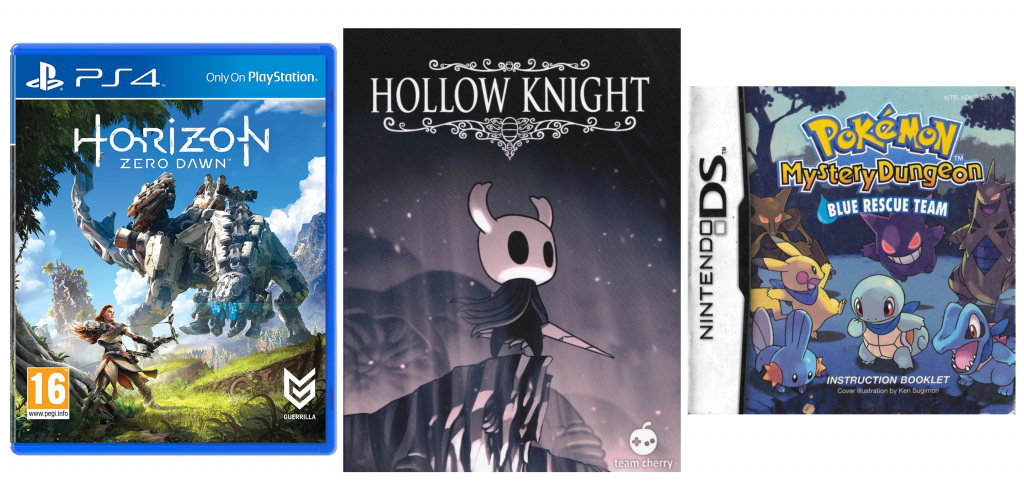 Horizon Zero Dawn – I love the composition of this cover, and the colours used are really appealing. Also a giant robot dinosaur is present which is always a good thing.
Hollow Knight – I love this game's style and how this atmosphere is captured in the cover, the lighting is awesome and the embellished title is a big part of why I like this one.
Pokemon Mystery Dungeon: Blue Rescue Team – This was one of my favourite covers even as a kid because of the characters being mid adventure, seeing the Pokemon make expressions is really cute and that there is a story in the image makes it for me.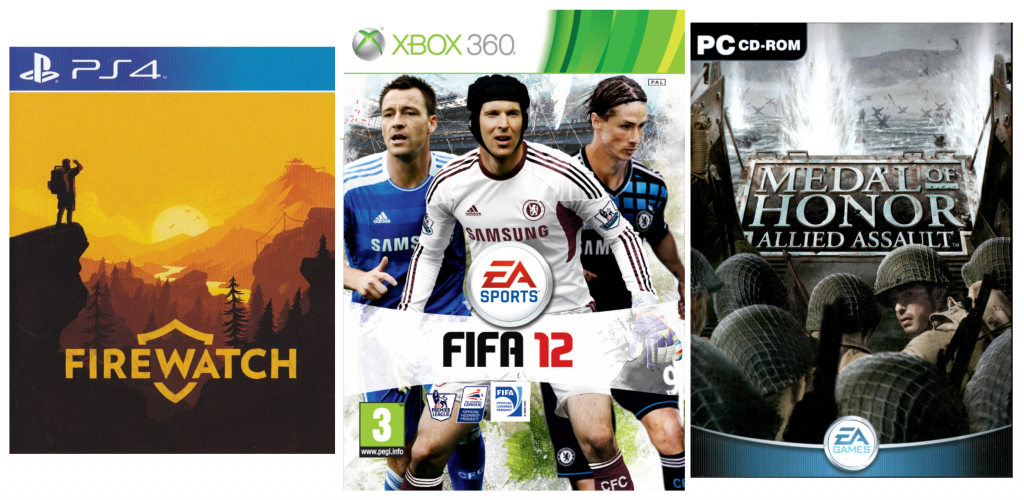 Firewatch – I really loved how the box art for Firewatch conveyed the art style of the game and that sense of wonder that you got when you played it. I was happy that they didn't lean towards having the protagonist take up so much of the cover and let the art shine instead.
FIFA 12 – Pretty obvious why I chose this one. FIFA 12 was the first FIFA game that let you buy team-specific box art, so it was nice to see your favourite players on the cover every time you went to play it, instead of some other loser (looking at you Wayne Rooney).
Medal of Honor – I chose this one purely for nostalgia reasons. It's generic by today's standards but that's because this game set the formula that military shooters, like Call of Duty, would be replicating for the next 20 years. I remember literally playing this game every day as a kid and every time I would boot it up on my old Windows XP computer it would show that cover art – so it's been engrained in my memory pretty well.
What are some of your favourite game covers? Head on over to the Discord to let us know at discord.gg/whitepot.
---
Whitepot Recommendations
Here's what we've been reading, watching, listening to and playing the past month.
Adam: Last month I was all about playing Total War: Warhammer 2 and the start of this month was much the same! However, I have been taking a break from it to play some more of the Master Chief Collection. Speaking of Warhammer, a new edition of Warhammer 40k came out and with it a new big starter box so I've been trying to finish off some stuff in my mini backlog so I can dive into that! I've also unironically gotten into the World Snooker Championship and have had it on in the background for the last load of days!
Vicky: I set out on a challenge to complete Human Fall Flat without Googling a single thing, and I did it. I learned how to brute force wall climb in ways that definitely were not intended, and definitely didn't learn how all the mechanics worked properly, but I did it. Also been playing a bit of Clustertruck – basically anything on Game Pass. I promise we're not being paid to talk about Game Pass (pssst Microsoft). I, too, unironically got into the World Snooker Championship and tried my hand at some of my own Warhammer Mini painting.
Matt: This month I've been rewatching I Think You Should Leave with Tim Robinson, I also watched Clue and Upgrade. This month I finished Grim Fandango (with no hints or cheats which I am really proud of), Journey to the Savage Planet (It's was fun while it lasted), Carrion (interesting puzzle game) and I've also just started playing Grounded with the Whitepot crew, also Yakuza 0 and Outer Wilds. All good games.
Amy: This month I've been playing some Minecraft Dungeons, which is a lot of fun and easy to pick up, it's on GamePass too so if you have that then definitely give it a shot! I also watched Knives Out finally and I would highly recommend it even if you're not a big murder mystery fan.
Robbie: This month I've been playing a lot of Rime, it's a really cute 3D exploration game that you can get on Game Pass for free. We've watched a ton of movies (nothing else to do), some standouts being Palm Springs, Philomena and the Plot Against America (that was a TV show but we binged it in like 2 sittings so it was basically a movie).
---

Whitepot Playlist
Listen to our gaming playlists. A collaborative playlist of all our favourite music from games 😀
Volume One:
Volume Two:
Chat to you all after Gamescom,
Matt